This is Cool Cat Facts! Read CCF to know too much of CATS!!!! Feel free to add facts and add pictures!
A cat's whisker are used to help touch.
Cats tongues have hooked tastebuds that act as a hairbrush.They also are used for extra grip when picking up kill.
The nine lives might have come from this: A whitch had 8 lives, some times they went into the body of a cat.
To defend themselves, they arch their backs, puff out the tail and body,put their ears flat on their ears, and hiss as loud as possible.
The saying "scaredy cat" comes from a cat's fear.
Cats with blue eyes and white fur are deaf.
Feel free to add facts and add pictures!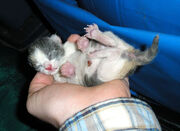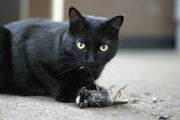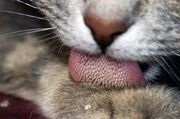 Ad blocker interference detected!
Wikia is a free-to-use site that makes money from advertising. We have a modified experience for viewers using ad blockers

Wikia is not accessible if you've made further modifications. Remove the custom ad blocker rule(s) and the page will load as expected.